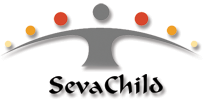 Connect With Us
SevaChild International
SevaChild International was conceived in response to a modern day tragedy in India where an estimated 80 million of the world's 143 million homeless children live. Countless more children living with impoverished families in dreadful conditions of malnutrition and hopelessness add to the suffering.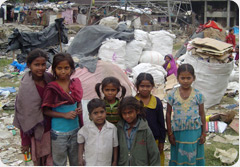 Noble efforts by thousands of independent child aid organizations throughout India have not been enough to deal with the enormity of this problem, a problem made worse due to an almost total lack of communication between them.

SevaChild International offers a new and expansive approach to addressing these and other intolerable circumstances through the creation of an Indian association where child aid organizations communicate and assist one another in their monumental task of providing aid for the world's largest population of children at risk.
Initiative in India
Our affiliate non-profit organization,
SevaChild India
, was founded to provide a platform whereby the smallest child aid organizations can join together with the larger more experienced to share best practices, leverage their resources and attract greater support from local, national and international charitable communities. Due the enormity and scope of our Indian mission, we have also co-founded
SevaChild Norway
to assist us through its fundraising activities in the European Union.
Call To Action
SevaChild International is a global initiative combining the skills and resources of our network of International affiliates with the experience and passion of indigenous child aid organizations to address one of India's most critical cross-cultural challenges: caring for it´s impoverished children.
The challenge before us is enormous and we need your help. If you have experience in fundraising, writing, organizing and/or non-profit administration, please
click this link
to discuss the ways you can become a part of and contribute to this vital initiative.
Last, but certainly not least, we encourage, welcome and need your monetary contributions however big or small. Your contributions are tax exempt under the rules governing contributions to 501(c)(3) nonprofit organizations. Please give generously and make this global initiative your own.
"Our Mission is to unite Indian child aid organizations in an umbrella association that fosters collaboration and sharing of best practices, and opens the door for international cooperation to assist them in providing secure, healthy, fulfilling, and academically enriching environments for the millions of children in their care."
'You must be the change you want to see in the world'
– Mahatma Gandhi