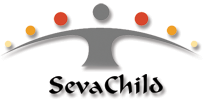 Connect With Us

SevaChild
SevaChild has created an international alliance committed to developing new and expansive ways of helping India's children where "an estimated 80 million of the world's 143 million homeless children live. This is equivalent to almost 1/3rd of the entire population of the U.S". (Source: The World Bank)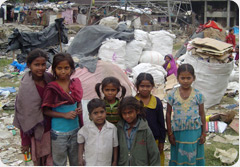 Noble efforts by thousands of independent child aid organizations throughout India have not been enough to deal with the enormity of this problem, a problem made worse due to an almost total lack of communication between them.

Through the formation of a national association for child aid organizations in India, and partnerships with International charitable foundations, SevaChild has created the platform on which these organizations can communicate and assist one another in providing aid for the world's largest population of children at risk.
Preventing disease
In 2013,
SevaChild
administered vaccine-like micronutrients to over 30,000 children under the age of 5, protecting them from a devastating disease. (
Read more
)
Transforming education
The Challenge
Today's education in the rural villages of India does not give children the practical knowledge and tools needed to improve their lives, nor does it help to expand their intellectual horizons. Moreover, the current school curriculum does not incorporate ideals for creating village sustainability and prosperity.
The Solution
Initiate educational programs that teach updated models based on Montessori principles, and disseminate information on modern technology and the ecological practices of permaculture and environmental awareness, in order to foster sustainability and prosperity while preserving valuable Indian traditions and culture.
Addressing basic needs
SevaChild
has established itself as a reliable distribution channel for international charities that want to give their products and services to Indian children in need. This year
SevaChild
delivered a shipping container of 25,000 brand new clothing items donated by Gymboree, Sketchers Shoes, and Pottery Barn for Kids, and distributed them to over 10,000 children in rurual India.
SevaChild
has a combined distribution reach to over 100,000 children through our member NGOs.
Call to action
The challenge before us is enormous and we encourage, welcome, and need your monetary contributions however big or small.
Your contributions are tax exempt under the rules governing donations to 501(c)(3) nonprofit organizations.
Donate
Sending you a heartfelt thanks from the SevaChild children in India.