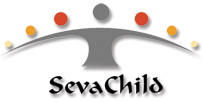 Life Saving Vital Nutrients
"Vitamin A deficiency is a major contributor to the mortality of children under five".
- The World Health Organization (WHO)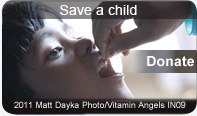 SevaChild's vital nutrient program is focused on reducing Vitamin A deficiency disorder among children of marginalized families in rural villages and urban slums. SevaChild provides Vitamin A in adequate doses to protect children from the ravages of VADD. Through our network of hospitals, schools, primary health care centers, churches and independent non-profit organizations, we serve children in areas that the Indian government programs don't reach.
We are protecting the lives of thousands of children, and for less than the cost of a cup of coffee you can
save a child
from this dangerous disease.
"Improving the vitamin A status of deficient children through supplementation enhances their resistance to disease and can reduce mortality from all causes by approximately 23 percent. Guaranteeing high supplementation coverage is therefore critical, not only to eliminating vitamin A deficiency as a public-health problem, but also as a central element of the child survival agenda. Delivery of high-dose supplements remains the principal strategy for controlling vitamin A".
- UNICEF
"Vitamin A supplementation was ranked by a group of world-renowned economists as the top international priority for addressing the world's greatest global development challenges."
– The World Health Organization (WHO)


To Donate by Mail
Please make
your cheque payable to:

SevaChild
3101 Grandview Ave. Ste. D
Glendale, California, 91201

Donation Questions?
Contact
info@sevachild.org