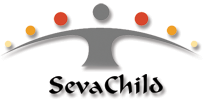 Connect With Us
Participating International Charitable Organizations
Vitamin Angels of Santa Barbara California "Life saving vitamins to fight malnutrition and save young lives″ Vitamin A deficiency (VAD) is a major cause of child mortality and blindness in malnourished infants and children under 5. Vitamin Angels has developed a way to prevent VAD blindness and reduce child mortality in at-risk populations by about 24% with a cost effective vitamin A capsule given twice a year.

The prevalence of underweight children in India is among the highest in the world where an estimated 57 percent of preschool children suffer from malnutrition.
Source: The World Bank

Through our member network of child aid organizations in India, and generous support from Vitamin Angels, ACAOI is distributing life saving nutrients to literally thousands of malnourished infants and children under 5.
Free Wheelchair Mission Free Wheelchair Mission is a humanitarian nonprofit organization dedicated to providing free wheelchairs to impoverished people with disabilities living in developing nations.

Free Wheelchair Mission requires documented recipients to receive their gifts of mobility.

Through our growing network of NGOs and the generous support of Free Wheel Chair Mission, ACAOI is developing contacts in remote areas throughout India to identify and register wheelchair recipients that qualify for Free Wheel Chair Mission's gifts of mobility.
If you represent a charitable organization that could benefit from or present a benefit to our growing reach in India, please contact
alliance@sevachild.org
.
"Our Mission is to unite Indian child aid organizations in an umbrella association that fosters collaboration and sharing of best practices, and opens the door for international cooperation to assist them in providing secure, healthy, fulfilling, and academically enriching environments for the millions of children in their care."
"Let us touch the dying, the poor, the lonely and the unwanted according to the graces we have received and let us not be ashamed or slow to do the humble work."
– Mother Teresa