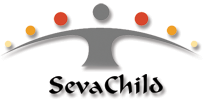 Connect With Us
Call to Action
Join SevaChild International, our international partners and individuals "like you" all over the world as we combine efforts to build capacity and improve the quality of care for the world's population of children at risk.
Your contribution will help support the noble efforts of non-profits dedicated to bringing compassion and opportunity into the lives of literally millions of innocent children in need.
Make SevaChild your own.
Give a Recurring Gift
Take this opportunity to join the Global community who support child aid organizations in India. If the need should arise, you can easily cancel your recurring gift at any time. This is the most useful gift you can give.
Give a One Time Gift
Your generous contribution to support our mission will make a difference
Give Life Saving Nutrients to Fight Malnutrition
Your contribution here will help to provide vital nutrients to literally thousands of infants and young children suffering from life threatening malnutrition. Help give them a better chance to survive and to live meaningful and productive lives.
Give the Gift of Mobility
Your contribution will help SevaChild International provide wheelchairs to many in need in India. Join this movement to lift disabled little ones off the ground and provide them with a life of mobility.
Planned (Legacy) Giving
Help ensure SevaChild International continues in our mission while enhancing your family's financial security. Giving a planned gift can help you accomplish both.
From naming SevaChild International in your will, to charitable trusts, retirement plan gifts and gift annuities, there are many ways to give. Your lasting legacy and compassion will ensure that essential SevaChild International programs will continue for generations to come.
To help you identify the right gift for your situation, and to find the resources and assistance you need, please contact Ed Kelly, Director of Planned Giving at ekelly@sevachild.org or Call 818-621-2570
Contribute Goods or Services
If you have goods or services you feel would be of benefit to our International Association, to the child aid organizations we support, or to the children they serve please contact us at info@sevachild.org.

We will be happy to assist you.
Volunteer
Would you like to help us by participating? If you have skills in fundraising, grant writing, copy writing, editing, non-profit management, accounting, public speaking, or if you are a doctor, nurse, photographer, videographer, project manager or computer programmer/website developer we would like to hear from you.

We need people from all walks of life who can give of their time and energy to impact the lives of children who are living in extreme poverty. Join SevaChild International and individuals all over the world as we combine our efforts to bring compassion and opportunity into the lives of these little ones in need.

Please contact at info@sevachild.org
Sponsor a Fundraiser
If you have experience in fundraising, or have and idea or resources to stage a fundraiser for SevaChild International, please contact Rick Carlton at rcarlton@sevachild.org
Support a Member Organization
Through this program, you have an opportunity to support one or more of our Indian Association Members in:
Supplying food and shelter to slum kids in urban cities
Providing education and medical care to impoverished village children
Helping an orphanage expand it's capacity to shelter the homeless or improve it's services in various ways
For a list of accredited NGOs click on the "Member Organizations" button found on most of our pages.

To express your interest in any of these areas, or if you have another idea on how you would like to contribute, please contact Rick Carlton at rcarlton@sevachild.org